Joseph V. R. Paiva, Ph.D., PS, PE
Biography and Classes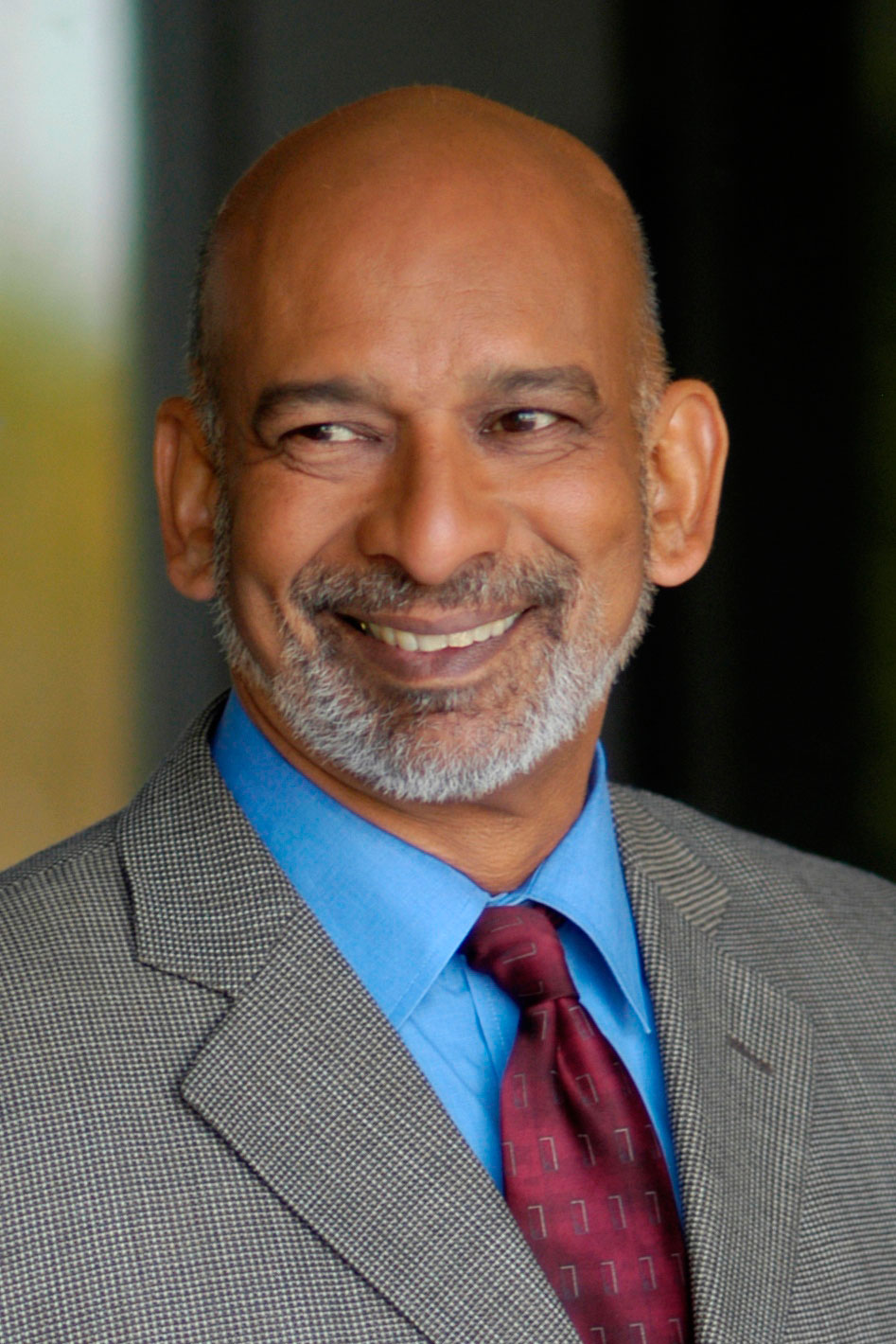 Dr. Joseph V.R. Paiva, is principal and CEO at GeoLearn, LLC which is an online provider of professional and technical education since February 2014. He continues to serve as a consultant in the field of geomatics and general business, particularly to lawyers, surveyors and engineers, and international developers, manufacturers and distributors of instrumentation and other geomatics tools.
One of Joe's previous roles was COO at Gatewing NV, a Belgian manufacturer of unmanned aerial systems (UAS) for surveying and mapping during 2010-2011. He also is a writer in many magazines and journals and has been on the "seminar circuit," delivering continuing education to geospatial professionals, as well as technician and exam preparation courses.
Joe was previously managing director of Spatial Data Research, Inc., a GIS data collection, compilation and software development company; senior scientist and technical advisor for Land Survey research & development, VP of the Land Survey group, and director of business development for the Engineering and Construction Division of Trimble; vice president and a founder of Sokkia Technology, Inc., guiding development of GPS and software-based products for surveying, mapping, measurement and positioning. Other positions include senior technical management positions in The Lietz Co. and Sokkia Co. Ltd., assistant professor of civil engineering at the University of Missouri-Columbia, and partner in a surveying/civil engineering consulting firm. He has continued his interest in teaching by serving as an adjunct instructor of online credit and non-credit courses at Texas A&M-Corpus Christi and the Missouri University of Science and Technology.
His key contributions in the development field are: design of software flow for the SDR2, SDR20 series and SDR33 Electronic Field Books and software interface for the Trimble TTS500 total station. He is a Registered Professional Engineer and Professional Land Surveyor, was an NSPS representative to ABET serving as a program evaluator, where he previously served as team chair and commissioner, and has more than 30 years experience working in civil engineering, surveying and mapping. He writes for POB and The Empire State Surveyor magazines, occasionally contributes to other publications, and has been a past contributor of columns to Civil Engineering News.
---
Joe's classes
---
Class Descriptions
Bulletproofing Your Surveys (or How to keep your surveys from being thrown out of court) (half day)
When a surveyor is hired as an expert witness, the process of giving testimony from the witness box (if the situation even gets that far) is usually near the end of a long process in the engagement. At that last step or at the many steps in between since being hired as an expert, there are many potential places or events for the surveyor or his or her work to be discredited and motions to prevent the testimony or reports or other evidence from even being admitted as evidence.
Sometimes such discrediting may happen for no reason connected with what the surveyor did. But it can also be that the surveyor overlooked one or more bases that, as an expert, he or she should have covered while performing the various steps of investigation, analysis, making conclusions, reports, and testimony, whether at trial, in depositions or interrogatories.
In this course surveyors will be taken through the steps of bulletproofing their work to avoid having themselves or their work discredited. This may mean having to learn new procedures, practice better record–keeping, learning to be more comprehensive in analyzing the facts, and being more thoughtful, clear and thorough in writing reports.
Process, methods and activities that have been appreciated and welcomed by attorneys and the court will be suggested together with ideas on how to adapt them to particular situations. Techniques for expert reports and expert testimony that is appreciated and well–received will be presented. Defensive measures to avoid detection of weaknesses by the opposing parties in any of the expert surveyor's work and testimony will be covered in general and specific ways.
This course applies equally to gathering facts, analyzing and then presenting exhibits and testimony in court actions involving property boundaries as well as other situations where surveying and its principles are applied, making the surveyor's expert testimony crucial. All this notwithstanding, some basic professional and ethical issues regarding the impartiality of the surveyor's findings will also be discussed.

Continuous Quality Improvement (half day)
Quality Control (QC), Quality Assurance (QA) and Continuous Quality Improvement (CQI) are terms not frequently used in land surveying and other geomatics activities. Yet, as managers of spatial data (collection, adjustment, analysis, information extraction, mapping and other activities), most practitioners and their staffs may unknowingly use some aspects of these activities from the realm of Quality Professionals. This course will help surveying professionals understand the overall scheme of quality management, and why such a structured approach is essential to maintaining consistent quality in their survey.
As the final use of spatial data is so reliant on accurate and high quality processes so that the end user(s) of that data can reliably use and apply such data and information, having systematic ways of ensuring quality can be a decided benefit to a typical spatial data professional's practice. In this course, the basics of QA, QC and especially CQI are covered. Then, suggestions are given on how to concretely apply them to a geomatics practice.
Benefits of using the aspects of quality management and continuous quality improvement are presented together with the risks of not using them. It is likely that many course attendees will see in the described risks many negative outcomes they may have experienced. It is also possible that they may recognize these outcomes as a result of failure to apply basic quality management techniques to their businesses.
By the end of this session participants will:
Understand the difference between QA, QC and CQI
Understand how to break down their work into components that are QA, QC and CQI
Develop some takeaways on how to develop more robust ways of ensuring quality in the work output of the organization
Understand some of the real costs they may be paying currently without having a systematic approach to ensuring quality in their organization's work
Appreciate how it requires active personal and group involvement in quality in an organization, leading to a workplace shift in understanding that it everyone's responsibility to ensure quality, but that various positions have more or less of that responsibility
Learn how to shift from assigning responsibility for quality to assigning accountability and real authority for specific quality processes to each and every position in the organization.
Executive Version available
This course is also available as an Executive Style seminar that can be organized over a half or full day format for senior managers and executives. It will focus on some of the same ideas, but then switch to how to exercise leadership to achieve goals that each executive attending the course develops. Each attendee will present their goals after the introduction and the facilitator and the other attendees will collaborate with each attendee to develop the outline of an executable plan to achieve improved quality performance within the organization. For obvious reasons, the half day format will accomplish less than a full day.

How to Use Modern Surveying Equipment Effectively (and not get yourself into trouble) (half day or full day)
Modern surveying technology has been a real boon for surveying. Compared to technology from 50, 30 or even 10 years ago, the benefits that are available have multiplied, and it is likely they will continue to multiply. Additionally, new technologies seem to get added into the surveyor's "toolbox." It used to be transit, tape and level. Now we have various types of total stations including fully robotic models and non-prism types, we have GPS and GNSS and they can be subdivided into RTK and static operation. We've had digital levels added to the mix, and now LiDAR (laser scanners) are being added. We are on the verge of adding drones (unmanned airborne systems). With the addition of microprocessors and software, these new systems practically (seem) to do all the work. But do they?
Unfortunately surveying practice is actually more difficult to manage, as there as so many more invisible unknowns than are visible unknowns. Additionally instead of 3 or 4 people on a survey team, it frequently occurs that only one person is in the field. In managing the surveying process, survey managers mistakenly believe, perhaps with the encouragement of equipment providers, that knowing what buttons to process is all that's needed. But this "trained monkey" syndrome opens us to more possibilities of failure.
In this course we will discuss a little bit how each of these technologies work. We will discuss their benefits in time, accuracy, portability, etc. But we will also talk about the problems that can be created in the data that is being collected, that may not be easily detected in the field or in the office. We will talk about field methods and office methods that can be used to discover such problems.
But the emphasis will be on how to make sure your equipment users understand what is really happening. This requires some understanding of the technology, but it also requires paying a lot more attention. It is paradoxical, but coming home consistently with good data actually requires a more educated user than a less educated one…for many reasons.
In this courses some of the learning goals include:
Developing an understanding of the strong and weak points of the principal technologies available to surveyors today
Getting some tips on how to train your field and office personnel to prevent blunders due to lack of technology understanding
Getting some tips on how to train your field and office personnel to detect blunders due to lack of technology understanding
Learning how to do some simple checks and tests to ensure that the technology is operating properly.
NOTE: if the longer version of this course is selected, hands-on demonstration, or space and facilities permitting, student hands-on training for doing a few simple checks and tests can be included in the curriculum.


Integrating Unmanned Airborne Systems (UAS) Into a Geospatial Business (half day or full day)

Unmanned Airborne Systems (sometimes called drones) have become quite popular. They can be a real asset in many businesses that do surveying, mapping and other geospatial activities. However the integration of such technology requires a lot of planning and forethought to evaluate the business potential that arises from providing services and products that are based on the use of this technology. Also important is to understand some fundamental processes in operations that are required to properly and safely operate UAS. Finally, the photogrammetric technology that is used to create the services and products is similar, yet different, from "conventional photogrammetry" that has been done with higher altitude aircraft and expensive, calibrated cameras.

In this course you will learn:
Types of UAS
Some of the applications and potential new customer areas possible with UAS
Company operations and management of personnel including training that must be understood and integrated into the business before using UAS
The photogrammetric differences with UAS as compared to conventional photogrammetry
How the FAA is planning to regulate the process of flying a UAS
Your most important takeaway will be some knowledge of the technology, the choices, the possible products and business areas you can be in, important changes in your business operations you may need to consider and a little bit about the regulatory climate.

Executive Version available
This course is also available as an Executive Style seminar that can be organized over a ½ or full day format for senior managers and executives. It will focus on some of the same ideas, but then switch to how to exercise leadership to achieve goals that each executive attending the course develops. Each attendee will present their goals after the introduction and the facilitator and the other attendees will collaborate with each attendee to develop the outline of an executable plan for introducing UAS business and operations into the organization. For obvious reasons, the ½ day format will accomplish less than a full day.


Professional Ethics in Land Surveying (2 to 4 hours)

Good ethics is an aspect of professional practice that surveyors, by virtue of their license, agree to promote and practice. However, many times, surveyors are faced with decisions where ethics-based reasons are not brought to bear on the decisions facing the surveyor. Additionally, being a member of a profession implies support of good ethical practices. In this course, a surveyor's general ethical responsibilities are covered.

However the course begins with a discussion of what ethics is. Is it what's right? Is it what's legal? Do religious principles come into play? How does one know if one is being ethical?

In addition, some ideas a presented on how to create a more ethical business that is also a more ethical workplace.

By the end of this session participants will be able to:
Talk about ethical decisions that he/she is faced with in surveying practice
Understand and promote good ethics practices for oneself so that the profession and the public benefit.
Get an understanding of why ethics is essential to professional development
State or locality customization
This course can be modified for the locality (state, county, etc.) in which it is presented. To do so, it will be helpful for the sponsor to provide a local contact who can inject local issues that may be important to include. The discussion can be customized, for example for local statutes, rules and regulations. Finally, what ethical standards derived from state or other professional surveyor's associations that even non-members should be aware of will be discussed.
Understand how the local statutes, rules and regulations affect the surveyor's practice
Learn how applicable Canons of Ethics, Codes of Practice and similar documents affect even the professional behavior of non-members.
Understand how local surveyor's associations and societies contribute to the ethical standard that surveyors in the area are held to.

Re-Engineering Surveyors and Their Businesses (4 to 8 hours)
Surveyors often ponder their status as professionals – are they or aren't they? They often also consider their relationship to other professionals. This happens on several fronts. A couple of them are to compare their relative stature to that of other professionals. Another is the dynamics of business relationships with other professionals such as architects, engineers, lawyers, etc. – is it peer-to-peer or something else?
The program will begin by examining what surveyors do currently and how it affects their self-perception and perceptions by others. We will discuss how these perceptions are created and what we might do to alter them as individuals, as a group, and as businesses. But to alter them, we must know what we want as our (true) image. The discussion will therefore move to what benefits we offer, how to make these less abstract to clients and other professionals, as well as what benefits we might be able to add in the future.
The program will end with a discussion of how we might change, i.e. re-engineer, the way we represent ourselves as individuals, as well as our businesses and associations and the benefits we may be able to derive. Since passivity by individuals and groups is the best way to sidetrack any new initiatives, methods by which we will actively manage them will also be discussed. This program encourages active involvement in the discussion by the session participants.
By the end of this session participants will:
Understand the status quo of relationships between surveyors and others and how it affects image
Learn from your peers and the facilitator how you might manage an "image improvement" program
Realize that change is inevitable, and thus in making any changes consider how the environment in which we operate influences our decisions
Appreciate how it requires active personal and group involvement in image management to create genuine improvements in members of the profession so that image changes are long-lasting and meaningful
Note to conference managers and association executive directors:
This is an extremely valuable course used by many associations to start the discussions on how to create a new association plan for the future, or to collect data for an association strategic plan and/or to get members engaged actively in the work of the association.

Executive Version available
This course is also available as an Executive Style seminar that can be organized over a half or full day format for senior managers and executives. It will focus on some of the same ideas, but then switch to how to exercise leadership to achieve goals that each executive attending the course develops. Each attendee will present their goals after the introduction and the facilitator and the other attendees will collaborate with each attendee to develop the outline of an executable plan to achieve a re-engineered individual or business. For obvious reasons, the half day format will accomplish less than a full day.


The Science of Surveying Measurements (half day or full day)

Surveying is many things. But included in the top 5 things that surveyors are known for by the general public, is the ability to make quality measurements with a much higher degree of refinement than those who are not surveyors. What then is the expectation? And more importantly, how do we achieve it? Seldom do schools, on-the-job training and bosses tell us how to do it and why. In this course, you will learn how to take the care that is needed to ensure that what your clients expect is what they get.

In this course, some of your takeaways include:
Analyzing your specific situation to determine how (and with what) you should measure
Understand what the manufacturers of your instrumentation really mean when they state accuracy
Have an understanding of surveying measurement so that you can explain to your client or a lawyer or a judge, what it is you did, and why it is appropriate.
Some of the topics include:
The nature and types of errors and how to include this understanding in your planning, executing, and analyzing fieldwork
Mistakes (blunders) and avoidance
Adjustment of errors
Weighting
Standard deviation, confidence intervals, standard deviation of the mean
Most probable values
Evaluating performance levels of surveying systems
Applying results of evaluations to survey practice
Depending on length of seminar and requirements of seminar attendees, topics can include: nomenclature; hands-on demonstrations using instrumentation of the students, with discussion on practical application of the results; angle-distance equivalents; discussions of traverse and other adjustments and the assumptions made; significant digits when calculating and reporting distances, directions and areas; trigonometric leveling; traversing with GPS.


So…You're a Surveyor! Why Don't Your Measurements Ever Agree With Those From the Description or Another Surveyor? (half day)

Lawyers are especially know to ask "why don't two surveyors agree." There a many reasons for this. But when it comes to comparing one measurement by one surveyor to another measurement by a different one, surveyors need to be able to explain this. Regardless of whether a lawsuit is involved, surveyors need to be able to methodically go through the reasons and to explain with simple concepts why some differences are to be expected, even when both surveyors are working with accurate instrumentation and procedures.

To be able to do this well means that surveyors need to understand how the technology works and how much uncertainty there is in each measurement. When it comes to a situation involving possible litigation, analysis may be necessary to determine if others who have made the measurement are just plain wrong, or whether the discrepancy is reasonable. Surveyors have to often "put a stake in the ground" figuratively in situations with conflict. Making the incorrect judgment can result in embarrassment or worse.

In this course, we will cover some of the elementary principles of measurements and statistics so that surveyors can analyze their work, compare to current or historic measurements and after making educated assumptions about the technology and methods used by the other parties, state whether any discrepancy is within reasonable measurement limits or not. Even when there is no conflict, we will discuss why it is prudent to state on your surveys what the uncertainties in your state quantities (distances, directions, areas, elevations, etc.) are.

Learning goals:
How to look at two measurements and evaluate if the differences are significant or within the reasonable uncertainties for technology and field methods and conditions
How to explain the differences or similarities using a minimum of science, mathematic and statistics, though some will be necessary
How to develop a sense of the accuracy of your own measurements
Learn possible ways to state your measurement uncertainty and why even though you are stating your own errors, that it actually protects you to do so.

Surveying with GPS (or How to Use GPS Optimally (half day)
The improvement of GPS equipment and availability of signals has made this a tool that more surveyors are relying upon in planning their work. This course addresses the background of the technology and appropriate implementation in survey projects. The global navigation system (GPS) has been with us for several decades. But in reality we are at the dawn of the third generation of GPS, often referred to as GPS III. In addition, the Russian GLONASS system has been around long enough, and problems with lack of sufficient satellites, that most of the large manufacturers of GPS receivers for professional applications have added GLONASS satellite tracking capability. The European Union is also planning a GNSS called Galileo. Their first test satellite has been put into orbit and second one is expected soon. In addition, satellite based augmentation systems (SBAS) are proliferating. Some are government sponsored such as WAAS in the U.S. and EGNOS in Europe. Others are privately offered.
In this course we will cover the changing landscape of GNSS. The future capabilities of GPS III, GLONASS and Galileo will be discussed together with a summary of the best experts' predictions of how it will affect position for surveying and mapping applications. SBAS is a further improvement to the positioning capabilities of using the GNSS. We will compare how these work, their limitations and advantages. The latest projected schedules for implementing all of these systems will also be presented.
Topics covered include:
Basics of how GPS system has been designed for navigation
How the code phase solution is derived
How differential positioning using code phase is done
How carrier phase solutions are derived
How the surveying GPS software derives solutions and how a surveyor should use those results evaluating results for adequacy
Course material can also include: types of receivers; types of antennas, multipath, other errors that are exclusive to GPS; traversing with GPS; good operating practice with GPS; projections and datums; the altitude vs. elevation problem; how and when to use surveying GPS for elevation measurement.

Session participants will:
Understand the new capabilities to be implemented with GPS III
Learn the differences and advantages of adding GLONASS to their GPS capabilities
Appreciate the timeline and services that will be offered by Galileo and how it might affect one's abilities to do surveying and mapping positioning
Understand better how SBAS can help a surveyor (and when it cannot) and what the equipment, costs and schedules are for implementing these systems
Understand some of the errors that can be in GNSS observations and how to avoid common blunders
Learn practical operating tips.

Surveying with Total Stations (or How to Use Total Stations Optimally) (half day or full day)
We are most efficient and effective when we understand the capabilities and care of the tools we employ. This course includes in-depth coverage of how total stations work, reflectorless and conventional EDM, robotics, accessories such as prisms, tripods, prism poles and tribrachs, and operating tips. Emphasis will be placed on weaknesses and strengths so that managers and operators alike can know how to apply the technology to work, and where to be especially careful and monitor system performance.
Topics include: must-do operating tips to ensure optimum performance; trigonometric leveling; assuring quality measurements; managing personnel to insure optimum results; calibrating and testing; how to transfer accuracy specs to results one can expect.
Objectives:
Understand how the technology works so that weaknesses and strengths can be understood
Learn the impact of peripherals such as prism poles, prisms and tribrachs on the performance of a total station
Develop a list of things to be learned about the technology you use, including reading the specifications and then performing some simple tests to see what performance YOU can achieve
Get many tips on how to operate your technology most effectively
Learn how to calibrate or test your instrumentation

Understanding What State Plane Coordinates Really Mean (half day)
Surveyors do more and more work on some kind of a grid, the most common being an arbitrarily defined "tangent plane" system (i.e. pound in a stake and call it 10,000, 10,000). When combining GPS with terrestrial measurements such as those from total stations, the magic of software in the field office computers is brought in to solve the "issues. " But what are these issues? What is being solved? What does the surveyor need to keep in mind? State plane coordinates or other officially designated projections are often used when making such combinations of measurements. This is just one of many reasons for using an official plane coordinate system.
But perhaps because of a lack of understanding of the mathematics involved, contractors, engineers, architects, and sometimes even surveyors themselves get into a world of trouble because things apparently don't fit. This happens for a variety of reasons. Some are due to the fact that courses are published as grid distances, and bearings and coordinates are published as grid values as well. But others, such as contractors, make ground level measurements and either ignore small differences or complain that there is no match. These problems are the easiest to explain and resolve.
Either way, problems can compound if the surveyor doesn't understand how state plane coordinates, grid distances and grid bearings work and can explain or teach others how to work with them. The harder problems occur due to lack of good communication between surveyors and the other stakeholders, or lack of understanding on the part of the surveyor as to what is actually happening to GPS and total station measurements as they are "converted" and combined.
This course begins with a basic explanation of how projections work, followed by an easy–to–understand primer on geodetic concepts. The latter is an essential part of learning how to deal with grid–to–ground issues. Then various strategies for communicating the issues and how stakeholders work with the published surveying information will be covered. All of these strategies apply equally to communicating and computing within a surveying organization or between surveying organizations.
You may find it helpful to bring a calculator to this course to perform simple calculations to verify the equations presented. The material is much more likely to be understood and remembered this way.
By the end of this session participants will:
Clearly understand the mathematical processes that occur with a measurement to convert between ground, the ellipsoid (geodetic) and the grid
Not be confused by the concept of the mapping angle
Be clear about which mathematical processes are not to be used when converting from grid to ground and vice versa
Have a collection of strategies to explain projections to your own staff, colleagues, and stakeholders such as engineers and contractors
Update on Where the FAA Stands on Drone (UAS) Regulations ) (2 to 4 hours)
The FAA recently released its notice of proposed rulemaking on how it plans to regulate UAS flying. The comment period has closed on the proposed rules. It is generally accepted that somewhere between spring and autumn of 2016, that the operating rules will be in place for anyone who wishes to fly drones for commercial applications including site photography, surveying, mapping, construction monitoring, inspection of facilities, etc.
In this course you will learn the specifics about how the regulations, as they currently are drafted will apply in your business. You will also learn about how to apply for permits to fly now, before the new rules are in place.
You will also learn how you will need to have a process for hiring, training, managing and evaluating your UAS personnel so that you stay within the safe flying rules and still achieve your surveying and mapping goals.
Takeaways:
Learn what the current procedures are for applying for public agency certificates of authorization (COA) or any organization, public or private, that wishes to attain what is called "Section 333 Exemption"
Understand what the current draft rules are for operating commercial UAS flights starting sometime in 2016
Learn how you will need to organize your company to be able to safely operate UAS and within the operating limits set by the FAA
Build into your business planning some of the opportunities possible with UAS operation for surveying and mapping